Hybrid remote participation
17 July 2020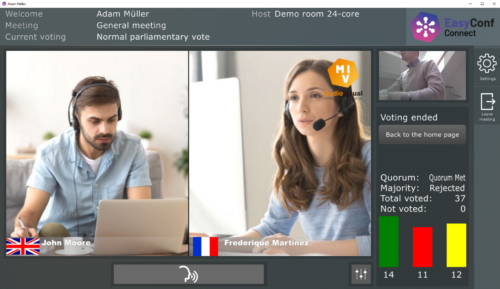 We're proud to give you the most user-friendly way to allow remote delegates to participate in council meetings.
With EasyConf Connect, the remote participant is part of your AV and conference system as if the person is in the room. It doesn't matter for the flow of the meeting if the speaker is remotely present or present in the hall:
If the person is in the hall, a conference system microphone is used. When its microphone is enabled, a dome camera will show the speaker and the conference unit is used to cast votes.
If this person is participating from a remote location, the remote webcam and its microphone are used and EasyConf Connect is used to cast votes.
For the chairman, the audience, the recording, live-stream and the conference and voting system there is no difference: all will look and work the same if the person is either remotely present or participating in the hall.
That is what we call Easy!
Quick feature set:
Up to 100 remote delegates, even in a mosaic view while the meeting itself may contain 500 delegates.
Integrated hybrid voting solution in which votes from remote delegates are combined into the conference system. We combine and correctly display the voting results.
Full chairman control over the room conference units, remote microphones and request list.
Microphone, meeting and voting control works the same for remote and hall delegates.
Individual and group speech time support, no matter where you sit.
Interpretation channel support for remote participants, who can tune-in on their own selected channel.
Mosaic view, multi video outputs. Mosaic view is nicely sorted by (political) group and alphabetically.
Local hosting support. We supply the distribution server software so hosting can be managed by the end-customer or AV integrator to allow full control over your own data. Perfect for big institutions to keep your data in your own network.
Integrated Acoustic Echo Suppression for the conference system and remote delegates.
Customizable UI to allow for custom look-and-feel for remote users.
User interface for delegates available in multiple languages.
All of this is perfectly integrated with our EasyConf conference system control software and EasyCam camera ingestion and control software.
Please read more on EasyConf-Connect.com